Webinar: Gestiona Google My Business
Plazo de inscripción finalizado
Actividad finalizada
25/01/2023
Participación abierta
¿Sabías que en Google se realizan 5,6 millones de búsquedas cada minuto? Millones de personas buscan todo lo que necesitan y como promedio, una persona realiza entre 3-5 búsquedas por día.
Antes estos datos, para cualquier pyme es importante conocer la herramienta gratuita creada por Google para ayudar a las empresas a gestionar su presencia en internet, Google My Business.
Contar con tu ficha de perfil de empresa en Google My Business con los detalles adecuados da visibilidad a tu negocio y facilita que tu potencial cliente llegue a ti.
En el webinar hablaremos sobre cuales son los primeros pasos que debes dar, qué información puedes aportar, cómo gestionar estadísticas y reseñas, o como subir imágenes atractivas de tus productos y servicios.
En esta masterclass nos acercaremos a las utilidades de Google My Business y cómo sacar el máximo partido a sus utilidades para nuestro negocio.
Fecha: 25 de enero, 18:00h.
Plataforma: Zoom
Ponente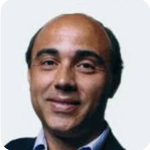 Luis A. Abrantes Madureira
Experto en Business Intelligence. Consultor, Conferenciante, Investigador, Educador | SMINT, Inteligencia Social, Inteligencia Competitiva, Inteligencia Artificial; Estrategia; Innovación; Crecimiento. Managing Partner en Uberbrands. Ha trabajado en empresas como OgilvyRED, Central Cervejas (Heineken), Red Bull, Matutano o Diageo. Máster en Data Science y Advance Analytics, Big Data por la Nova IMS de Lisboa. Máster en Business Economics con especialización en Marketing por la Nova School of Business and Economics. Bachelor en Economía por la Nova School of Business and Economics.
Inscripciones